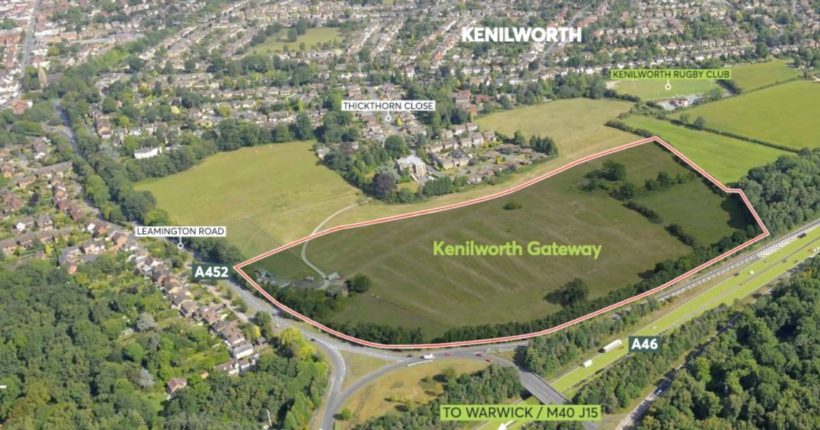 Kenilworth Gateway – 550 New Homes Announced for Kenilworth
As your local estate agent, we always keep an eye on the latest news and developments relating to properties in the area. So, although we're not involved in the proposed development at Kenilworth Gateway, we have been interested to read all the details.
So, what's being planned? The development will bring 550 new homes, built by Persimmon, a primary school, community centre, and local centre. The designers have incorporated cycle and pedestrian routes that will weave through the existing ancient woodland, and some new planting areas. One corner of the development has been given over to commercial use and will bring more employment to the town.
Kenilworth – a beautiful place to live
We can completely understand why anyone would want to live in our beautiful town of Kenilworth. As a smaller town, we're a popular destination for people looking for somewhere a little calmer than the nearby towns of Leamington Spa and Warwick, and the much larger city of Coventry. Our excellent network links and our town centre train station, updated and reopened in 2018, make it easy to commute to Coventry, Leamington Spa, and even Birmingham.
For growing families, Kenilworth also has some outstanding primary schools and secondary education, including the Kenilworth School with its large, separate sixth form centre.
There's plenty to do in this historic market town. You'll find the locals relaxing in the grounds of the 68-acre Abbey Fields, a parkland close to the centre of the town. Abbey Fields is full of grassy areas to sit back and picnic in the summer sun or walk through the trees and around the lake. There's a playground for children, tennis courts, and historic buildings. And a multi-million-pound refurbishment project is underway to develop Abbey Fields Swimming Pool.
New developments bring new opportunities
The new Kenilworth Gateway will increase the number of homes in our town, of course. And with an increasing population there will follow increased footfall in the town centre. Kenilworth already has a good shopping area for locals, with a mix of small local businesses and the expected high street names. The Talisman Shopping Centre in the heart of the town is a lovely place to wander and support our local retailers.
After the events of recent years, we're pleased to see how many residents have returned to the local eateries as well. Kenilworth has a variety of different cuisines, from traditional fish and chips to Italian, Chinese, Indian, and Thai. We've got coffee shops and cafes, restaurants and traditional pubs, and even an eatery dedicated to desserts. As Kenilworth expands, we're sure the town centre will benefit.
Although the information released so far doesn't provide much detail about the houses we can expect, we can assume there will be a mixture of smaller and larger home types. The average cost of semi-detached in Kenilworth is approximately £390,500. With more homes available it will give more young families the opportunity to buy their first home or for upsizing and downsizing, helping to bring more movement to the property ladder.
We'll keep you updated as we find out more about Kenilworth Gateway. In the meantime, please get in touch if you have any questions about the property market in Kenilworth.